Last June I posted what I consider to be
one of my most beautiful photo sets to date
: a series of images of the mangroves at the seaside resort of Beachmere, taken at dawn. My only regret at the time was that the water was quite low when I took those photos. While I loved the ripples in the sand that appeared when the tide receded, I'd made the trek to Beachmere specifically to take long exposures of trees surrounded by water, and I didn't get them because there wasn't enough water around. It was a bit of a miscalculation on my part, and I always meant to return to the place at some point to rectify the mistake.
A few weeks ago I finally got the opportunity to have a second go at those long exposures. One Sunday morning when I really should have been sleeping in, I got up at 2.45am to photograph the sunrise at Beachmere during a reasonably high 1.6-metre tide. I fully expected to have to wade waist-deep in the water to get my shots, but as it happened, the water was only knee-deep near the mangroves. High enough for some lovely long exposures, but not high enough to hide all the roots and ripples in the sand for the entire duration of my stay. Clearly I'll have to go back some other day when the tide is even higher (say, 2.2 metres)...
Anyhow. This is how my early start was rewarded...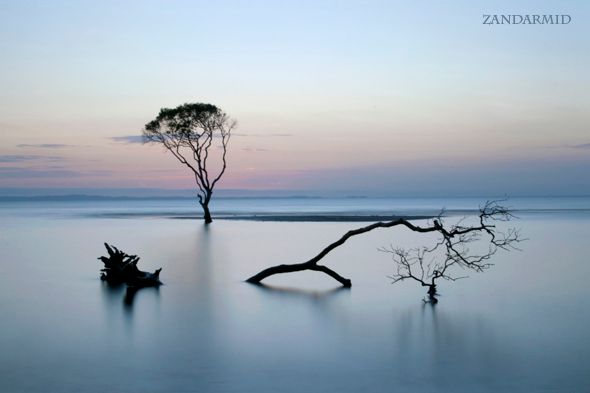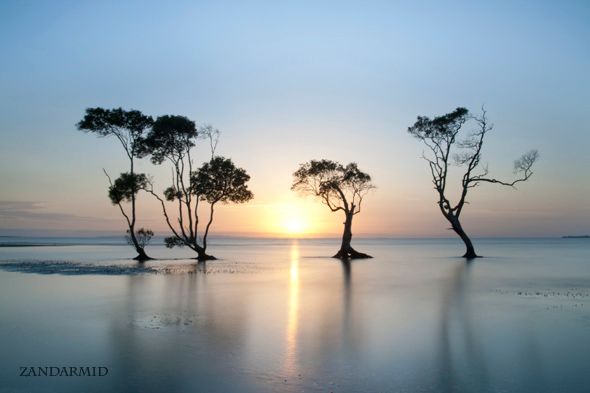 I took even better photos than these -- strong compositions of lone or paired trees, silhouetted against the sun. Sadly, these shots came out rather overexposed, to the point where the sun and the reflections of the light on the water are completely burned out. I think the images are salvageable, but it will take considerable Photoshop trickery. I'll post them once I'm done playing around with them...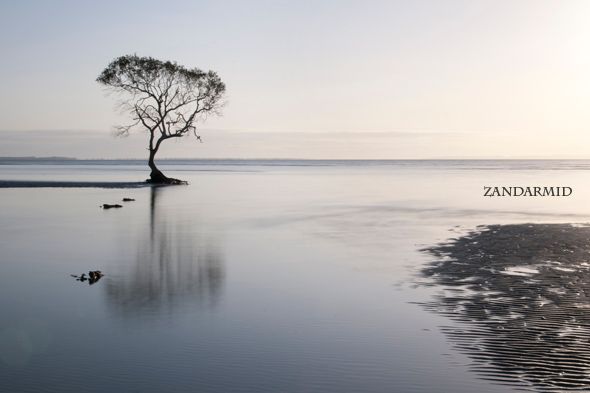 Note that the water is a lot lower in these post-sunrise shots than in the sunrise ones. It's amazing what a difference half an hour can make in a tidal environment.
Beachmere, Queensland, Australia, 2013
Nikon D300 + Sigma 17-70mm 1:2.8-4.5 + Hoya ND400 filter + Manfrotto tripod
Linked to
Skywatch Friday
,
Weekend Reflections
and
Weekly Top Shot